Report
Creating a Platform to Boost Productivity and Enable Industry 4.0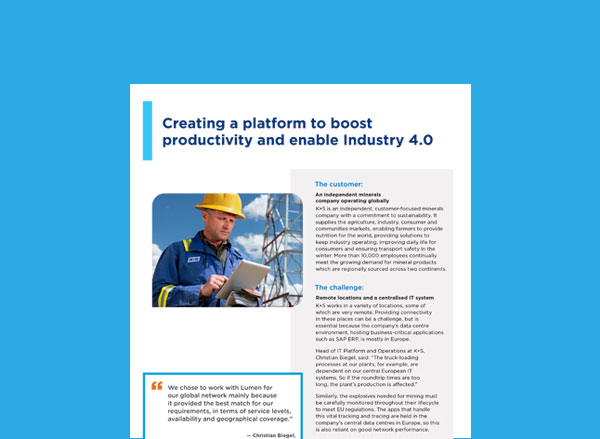 K+S, an independent minerals company, faced challenges with remote locations and a patchwork of IT providers worldwide. The centralized IT system in Europe hosted business-critical applications, causing issues with network performance and latency.
To create a stronger foundation for its future IT and business plans, K+S needed a single global partner for its worldwide Wide Area network. Lumen provided a scalable, high-bandwidth Adaptive Networking solution that flexibly supported K+S's critical apps and data.
This report elaborates how the solution improved performance, providing better cloud services, greater visibility and control of network traffic, and stable global coverage.
Sponsored by: Lumen
This page is FastPass tested and is compliant with Microsoft Accessibility features.
Get Exclusive Access to the Report
15921-15918
Creating a Platform to Boost Productivity and Enable Industry 4.0
By downloading this publication, you understand and agree that you are providing your personal information to Anteriad, LLC, and Anteriad may share your personal information with Lumen, pursuant to Anteriad's Privacy Policy. Furthermore, Lumen may use your personal information to provide you with marketing materials and contact you regarding its services, pursuant to Privacy Statement.